Samsung Flip 2 WM55R
Samsung Flip 2 WM55R


Samsung Flip provides users with a smooth and familiar pen to paper writing experience in a variety of available colors, styles and widths. Up to 4 people can write simultaneously, using any object as a writing tool.
Samsung Flip 2 WM55R - Interactive digital flipchart with UHD image resolution and improved touch control

Samsung Flip 2 is an interactive touch display that will meaningfully enhance any meeting room, conference room huddle room and even seminar or classroom, making collaboration even easier. The innovative display, just like the popular first generation Samsung Flip model, not only captivates with its smart design, it also brings features that now suit any working and learning environment.

In addition to enhanced wireless connectivity and compatibility with Microsoft services, the Samsung Flip 2 has also been given a web browser that allows you to easily access all web content.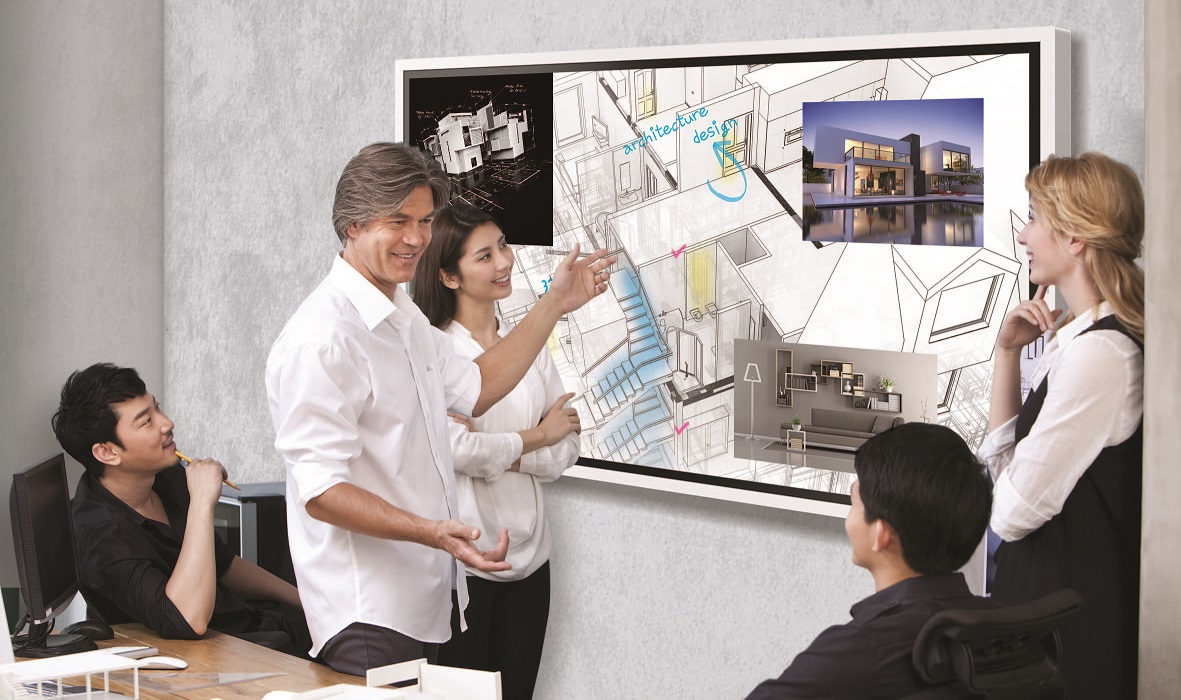 The best Samsung Flip 2 features

Brush mode (painting with a real brush)
Integrated web browser
Compatibility with Microsoft services and Office365
Real-time annotation
Improved touch operation
Bluetooth support for Bluetooth-enabled devices (e.g. mouse & keyboard)
Touch support for up to four users simultaneously
Screen sharing via WiFi or HDMI
Remote PC function
Screen mirroring from Android devices and Windows PCs/notebooks
Creative brush mode - paint with a real brush

Samsung Flip 2 allows you to paint with a real brush. Any brush can be used for impressive artistic creations. In addition to a large colour palette, there are also two creative painting styles to choose from: Oil painting and watercolour painting. The real painting feeling is provided by the colours, which not only run into each other like on a real painting surface, but can also be mixed with each other. Especially for creative artists, this innovation offers a wonderful tool for convincing artwork idea sketches.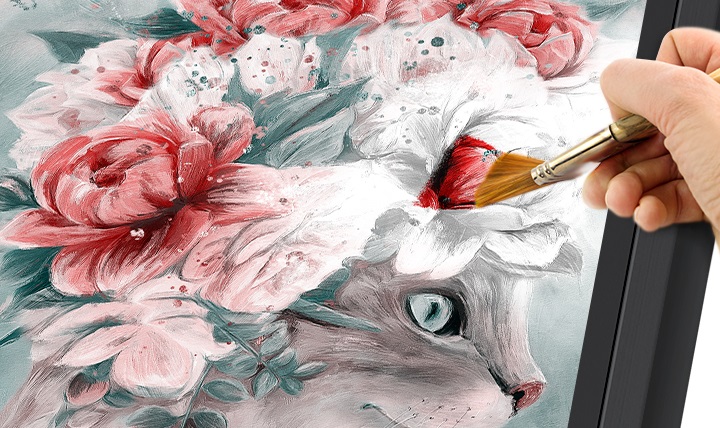 InGlass Touch technology - precise operation via touch

The InGlass Touch technology used in the Samsung Flip 2 meets the highest standards of modern interactive touch displays. It allows precise operation of the display via finger touch as well as with the help of the included Samsung Flip pen.

Note function - annotate & write on content in real time

Samsung Flip 2 offers a practical tool with the note function to be able to label or comment on any content in real time at any time. Images and graphics as well as other documents can be annotated very easily without permanently changing the actual content. A wonderful tool for productive meetings and brainstorming processes.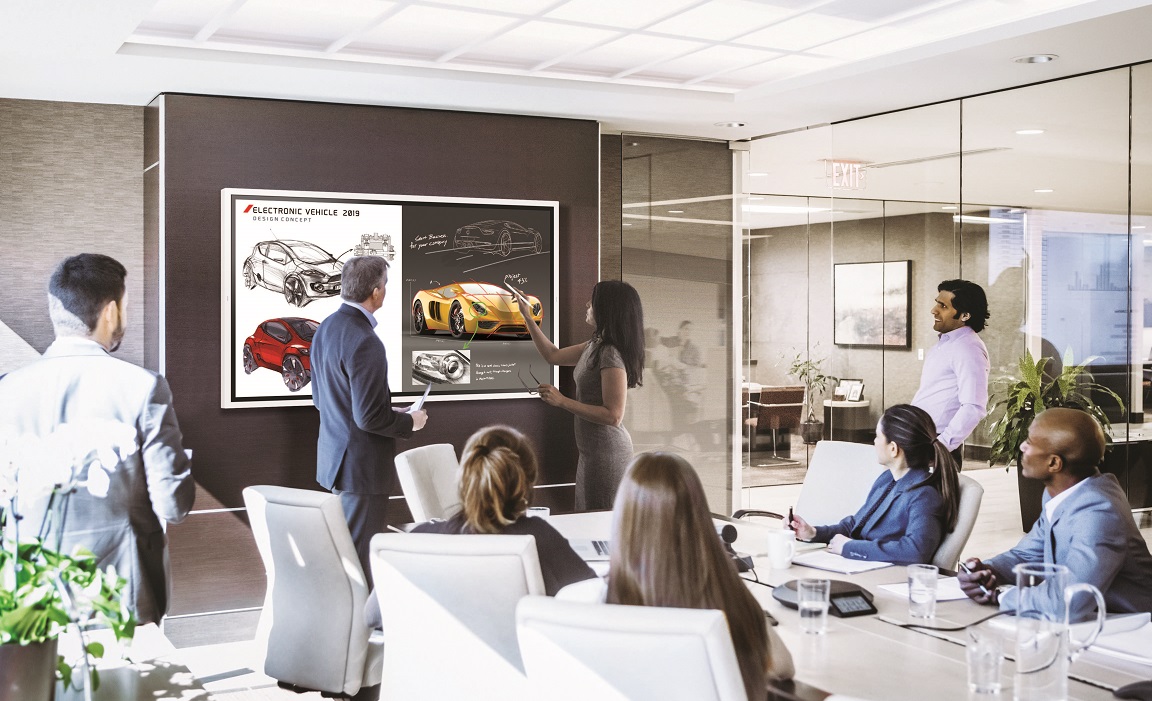 Simple & intuitive image editing - creatively stitch content together

With the Samsung Flip 2, content can be quickly selected, modified and thus quickly merged into new creative compositions. This is not only quick to do, but also stimulates the creative process and invites experimentation.

Numerous form templates - templates for every task

The standard features of the Samsung Flip software also include numerous templates for a wide range of tasks. You can use Samsung Flip 2 specifically as a calendar, planning tool, note board or even as a checklist board. There is a template for every task.

Easily share any content - via Wi-Fi or HDMI

The content displayed on the Samsung Flip 2 can be easily transferred to another WLAN-enabled display via the available WLAN network. Alternatively, the HDMI output of the Samsung Flip 2 can be used for this task. This brings even more freedom to any meeting or creative brainstorming session.

Remote PC & Bluetooth connectivity - control via PC or mouse & keyboard

Samsung Flip 2 has been equipped with Bluetooth and remote PC connectivity. This means that you can use the interactive display together with a Bluetooth PC mouse or a Bluetooth PC keyboard. Remote PC connectivity allows Samsung Flip 2 to be connected to a PC and controlled remotely from another location, for example.
4K UHD Display & Tizen Operating System - Powerful Hardware for Modern Work

Rich in detail and contrast, the Samsung Flip 2 offers exactly the image quality that is ideal for professional working environments. Whether tables, graphics or videos - all content is displayed in high image resolution and with perfectly matched colour balance. The powerful Tizen 5.0 operating system ensures lag-free image and video display.

Advanced features for a professional work environment

The extended range of functions of the Samsung Flip 2 allows various settings to be made at the administrator level. These include data security settings, firmware updates, LDAP synchronisation and remote management.

Conclusion - Digital flipchart that speeds up creative processes in modern work environments

Samsung Flip 2 WM55R is a worthy successor to the already best-selling first-generation Samsung Flip. The successor model remains true to the Flip product line and combines the proven, highly praised and incredibly easy usability with various practical features that have been adapted to the highest degree to the requirements of modern working and learning environments. Whether in meeting rooms, seminar rooms or even classrooms - Samsung Flip 2 fits perfectly into every room and every application situation.
Manufacturer
Samsung
Name
Samsung Flip 2 WM55R
SKU
1000009752
Manufacturers Code / SKU
LH55WMRWBGCXEN
Products EAN
8801643914288
Product Type
Display
Product Series
Samsung WM Series
Display type
Touch display
Screen size (inch)
54
Screen size (cm)
54.72 cm
Resolution
3840 x 2160Â

4K

 UHD
Format
16:9
Brightness (max.)
220 cd/m²
Display features

WiFi

Remote control
No
Response time
8 ms
Contrast
4700 : 1
vesa norm
400 x 400
Product dimension

s (width)

129.74 cm
Product dimensions (height)
76.82 cm
Product dimensions (depth)
5.99 cm
Product weight (net)
28.2
Colour
White
Power consumption Standby Mode
0.5 watt
A

nnual energy consumpti

on

146 kWh / year is based on 4 operating hours per day for 365 days. The actual energy consumption depends on the actual usage of the display itself.

EEK Spectrum
A to G
Condition
New
Warranty
36 month
99% of our HP Computers are HP Renews. HP Renew is the solution you need, Certified, reliable, and trusted HP computing products at a price you can afford!
What is HP Renew?
HP Renew products come from various sources, for example, from channel returns, cancelled orders or end of life excess; When the big stores want to Renew their stock, HP is right there to take it, check it and bring them back into the market at a reduced price so that we can also have a computer, same type, same quality but cheaper. Isn't that great?
HP Renew products can be recognized by the addition of an "R" to the HP product number. For example, if the new product number is A1234A, the equivalent HP Renew product number will be A1234AR.
HP Renew products are guaranteed to be the same as a brand-new product. All HP Renew products undergo a complete HP re-manufacturing and testing process, fully restoring them to meet HP certified standards. HP sets strict quality standards for its entire technology portfolio and ensures that re-manufactured products offer the same performance and reliability as new products.
These items are delivered in sealed HP packaging with all original protective film and accessories included.
Full HP Warranty
HP Renew products are covered by the exact same warranty that is offered with new retail HP products. These products are only given the full original warranty after passing HP's stringent quality tests, guaranteeing HP quality and reliability. Additional service and support options are also available to complement the original HP product warranty.
Great Value for Money
HP Renew products offer the same reliability and performance as new HP products but for at least 10% less than the cost of the equivalent new product. If you have a limited IT budget, HP Renew is the perfect alternative – high-quality solutions at a lower cost.
Grade Gold
Look as new, no difference. Comes with full HP Warranty, unlike curries, pc world, Carphone warehouse etc. which use cheap 3rd party Warranty. All Grade Gold HP Renews comes in original retail boxes.
Grade Silver
Look like new no difference. Comes with full HP Warranty, unlike curries, pc world, carphone warehouse etc. which use cheap 3rd party Warranty. They come in brown boxes.
Grade Bronze
Look like new no difference but with slight cosmetic marks, comes with full HP Warranty, unlike curries, pc world, Carphone warehouse etc. which use cheap 3rd party Warranty. They come in brown boxes."
Grade A: "New" or "Pristine as new"
Grade A-: Pristine screen but may have 1 or 2 small cosmetic marks on the outer case Grade Grade B+: = Hairline marks on the screen, so visible when not in use, shouldn't be visible in use.
Grade B: There be visible marks on the screen and also when in use.
Grade B-: Same as above but will be more prominent.
Grade C: May have severe cosmetic marks/damage but full functioning
Delivery Information
Free Delivery when you spend £300 or more
Delivery Cost: 
Rates are automatically calculated at checkout. Larger or more fragile items may require special delivery arrangements and might take slightly longer. We will contact you to arrange the most convenient delivery option in these cases.
 Our Standard U.K Parcel Services
Royal Mail 1st Class:   Aims to deliver your parcel within up to 3 working days
Royal Mail 2nd Class:  Aims to deliver your parcel within up to 5 working days
* This is ideal for non-valuable, small and medium parcels weighing up to 2kg
Alternative Address Delivery:  We can ship your order to an alternative address to the invoice/billing address (pending security check clearance).
International Delivery: 
We also deliver to any location in the world, VAT of 20% is deducted from any computer purchase.
Parcelforce Worldwide global-express
Guaranteed delivery within up to 14 working days by close of business
Guaranteed delivery from up to 14 working day to USA, Canada and Europe and from up to 20 working days to the rest of the world.
End-to-end tracking to all destinations
Signature on delivery, with online confirmation
*Ideal for parcels over 2kg - Maximum weight of 30kg
Royal Mail International Tracked & Signed
Full end-to-end tracking, signature taken on delivery and online delivery confirmation
Receives priority handling in the UK and overseas
Aims to deliver your parcel to Europe in up to 14 working days and worldwide in up to 20 working days
Royal Mail International Tracked
Full end-to-end tracking with on-line confirmation
Receives priority handling in the UK and overseas
Aims to deliver your parcel to Europe in up to 14 working days and worldwide in up to 20 working days
Royal Mail International Signed
Tracked until the point the item leaves the UK
Peace of mind as your item will only be handed over when a signature is taken on delivery.
Aims to deliver your parcel to Europe in up to 14 working days and worldwide in up to 20 working days
Shipping Information:  Subject to stocks and cleared funds, all orders will be dispatched within 3 days.
Weekend / Bank Holidays:  There are NO deliveries on Bank/Public Holidays. A Saturday delivery option is available for most orders but does incur an extra delivery charge, please contact us for details.
Happy Shopping!
Shipping Estimate
Country:
Region / State:
Post Code: